Flandreau Santee Sioux Tribe
Reservation: Flandreau Reservation; in Moody County.
Division: Santee
Bands: Mdewakanton, Wahpekute
Trust Land Base: 2,184 acres
Tribal Headquarters: Flandreau, SD
Time Zone: Central
Traditional Language: Dakota
Total Population: 444
Estimated Tribal Enrollment: 736
Major Employers: Flandreau Indian School, Flandreau Santee Sioux Tribe, Royal River Casino.
Cheyenne River Constitution
Current Tribal Leaders
Charter:
Yes
Constitution and Bylaws:
Yes - IRA
Date Approved:
April 24, 1936
Name of Governing Body:
Flandreau Santee Sioux Tribal Council
Executive Committee:
(4) President, Vice-President, Secretary, Treasurer and 4 additional Trustees who are elected by the tribal members. Tribal Treasurer is appointed.
Dates of Constitutional amendments:
October 16, 1967, November 14, 1984, May 23, 1990, May 13, 1997
The Flandreau Santee Sioux Tribe has an Executive Committee that includes a President, Vice-President, Secretary, and Treasurer.
The Treasurer is NOT elected and is an appointed, non-voting member of the Executive Committee.
Elected Executives serve 4 year terms; elections are staggered.
The Flandreau Santee Sioux Tribe has 4 elected Tribal Trustees that are voted for at- large by FSST members.
Trustees serve 4 year terms; elections are staggered.
Quorum number: Executive Committee: 4 Executive members. General Council meetings must have fifty percent of qualified voters. General Council meeting are the first Saturday of February, May, August, and November of each year. Executive Committee holds meetings at least once a month established by the President.
Newspaper: Moody County Enterprise, Flandreau, SD
Chief Little Crow spent much of his life in Minnesota, where he was the head of a Santee band. Little Crow, a bold and passionate orator, established himself as a spokesman for his people. After becoming chief around 1834, he sought justice for his people, but also tried to maintain relations with the whites. In 1862, he led the fight now known as the Minnesota Santee Conflict. In fact, this war was launched only in the face of starvation and only after the federal government didn't present land payments as promised. Little Crow was killed the following year. He is buried near Flandreau.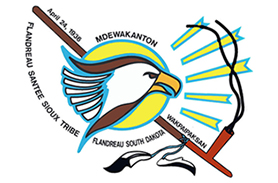 Tribal Website
Chairman: Anthony Reider
PO Box 283
Flandreau, SD 57028-0283
Phone: (605) 997-3891
Fax: (605) 997-3878