Rosebud Sioux Tribe
Reservation: Rosebud Reservation; Todd, Mellette and Tripp Counties.
Division: Teton
Bands: Sicangu (Brule or Burnt Thigh)
Trust Land Base: 888,896 acres
Tribal Headquarters: Rosebud, SD
Time Zone: Central
Traditional Language: Lakota
Total Population: 11,404
Estimated Tribal Enrollment: 33,210
Major Employers: Rosebud Sioux Tribe, Bureau of Indian Affairs, Todd County School District
Rosebud Tribal Constitution
Current Tribal Leaders
Charter:
Yes
Constitution and Bylaws:
Yes - IRA
Date Approved:
November 23, 1935
Name of Governing Body:
Rosebud Sioux Tribal Council
Number of Council members:
(20) twenty Council members
Dates of Constitutional amendments:
June 19, 1962, May 2, 1966, September 4, 1973, December 29, 1977, September 23, 1985, July 31, 1987, February 4, 1988
Number of Executive Officers:
(4) Chairman, Vice-Chairman, Secretary, and Treasurer
The Rosebud Sioux Tribe has four Executive positions, including: President, Vice President, Secretary, and Treasurer. The President and Vice President serve 3-year terms and the Secretary and Treasurer serve 2-year terms, their elections are staggered. Tribal Council members representing 20 districts serve 3-year terms and elections are staggered a year apart. The Primary election takes place in July of the third year with the General election taking place in August.
Number of Election districts or communities: 20 districts
Meetings held: Second Wednesday and Thursday of the month and the last Wednesday of the month.

Quorum number: 11 members
Ben Reifel, a five-term U.S. Congressman, was born near Parmelee on the Rosebud Reservation in 1906. During his lifetime, he worked for the Bureau of Indian Affairs, served in the U.S. Army, and received a doctoral degree from Harvard University. Reifel ran for office in 1960 and served until his retirement in 1971. He died in 1990.
White Eagle was the first American Indian to sing lead roles in American musical theater and opera. He graduated from the prestigious Merola Opera Program at the San Francisco Opera and has performed with the Pennsylvania Opera Theater, Florentine Opera, Cleveland Opera, and others. White Eagle was a memeber of the Rosebud Sioux Tribe.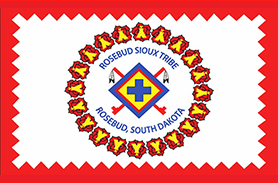 Tribal Website
Chairman: Scott Herman
PO Box 430
Rosebud, SD 57570-0430
Phone: (605) 747-2381
Fax: (605) 747-2243