Sisseton Wahpeton Sioux Tribe
Reservation: Former Lake Traverse; parts of Marshall, Day, Codington, Grant and Roberts Counties.
Division: Dakota
Bands: Sisseton (People of the Marsh), Wahpeton (People on Lake Traverse)
Trust Land Base: 108,589 acres
Tribal Headquarters: Agency Village, SD
Time Zone: Central
Traditional Language: Dakota
Total Population: 11,095
Estimated Tribal Enrollment: 12,389
Major Employers: Dakota Sioux Casino, tribal government, Bureau of Indian Affairs
Sisseton Wahpeton Constitution
Current Tribal Leaders
Charter:
None
Constitution and Bylaws:
Yes
Date Approved:
October 16, 1946
Name of Governing Body:
Sisseton-Wahpeton Sioux Tribal Council
Number of Council members:
(7) seven council members
Dates of Constitutional amendments:
November 21, 1978, June 9, 1980
Number of Executive Officers:
(3) Tribal Chairman, Vice Chairman, and Tribal Secretary
All elected representatives, including executive committee members and council members, serve two year terms. Elections are not staggered. The Tribe does not elect a Treasurer, the Vice-Chairman's responsibilities include all financial duties for the SWO.
Number of Election districts or communities: 7
Meetings held: The Council shall meet regularly on the first Tuesday, Wednesday and third Thursday of each month or upon call of the Chairman of the Council.

Quorum number: General Council members is ten percent of eligible members
Paul War Cloud, a Sisseton-Wahpeton, was born in 1930 near Sica Hollow. A self-taught artist, War Cloud realistically depicted Dakota culture and tradition in his paintings. Many of his works are on display at the Tekakwitha Fine Arts Center in Sisseton. A War Cloud mural, "Unity Through the Great Spirit," hangs at the Cultural Heritage Center in Pierre. War Cloud died in 1973.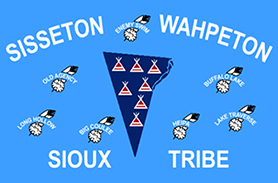 Tribal Website
Chairman: J. Garret Renville
PO Box 509
Agency Village, SD 57262-0509
Phone: (605) 698-3911
Fax: (605) 698-3708