Standing Rock Sioux Tribe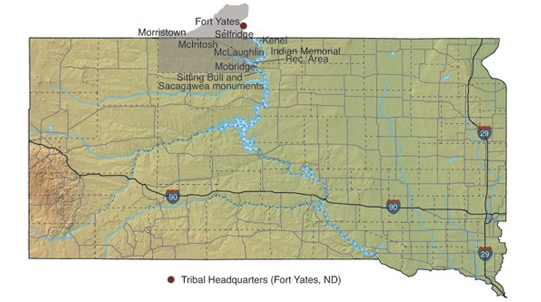 Reservation: Standing Rock Reservation, Corson County SD.
Division: Yanktonais, Teton
Bands: Hunkpapa, Blackfeet, Tanktonais and Cutheads
Trust Land Base: 841,700 acres
Tribal Headquarters: Ft. Yates, ND
Time Zone: Mountain (South Dakota side), Central (North Dakota side)
Traditional Language: Dakota and Lakota
Total Population: 8,553
Estimated Tribal Enrollment: 16,102
Major Employers: Standing Rock Sioux Tribe, which administers 40-50 programs, Sitting Bull College, Prairie Knights Casino, Grand River Casino and school districts
Standing Rock Sioux Tribe Constitution
Current Tribal Leaders
Charter:
None
Constitution and Bylaws:
Yes - IRA
Date Approved:
April 24, 1959
Name of Governing Body:
Standing Rock Sioux Tribal Council
Number of Council members:
fourteen (14) Councilmen, Eight are elected from election districts, six are residents of the reservation without regard to residence in any district or state.
Dates of Constitutional amendments:
May 11, 1984; October 15, 1984
Number of Executive Officers:
(3) Chairman, Vice-Chairman, and Secretary
The Tribal Council consists of a Chairman, Vice-Chairman, a Secretary and fourteen additional Councilmen which are elected by the tribal members.

The Tribal Council Chairman provides leadership and administrative direction to the tribe. The Tribal Council Chairman and Council serve a term of four years. Six of the fourteen additional Council members shall be residents of the Reservation without regard to residence in any district or state. Each of the remaining additional council members shall be a resident of the district from which his/she is elected. The At-large Council members are elected by the district people as whole (entire population of reservation).

Number of Election districts or communities: 8
Meetings held: Each month at Tribal Headquarters

Quorum number: eleven
Tribal College:
Sitting Bull College, Ft. Yates, ND
Radio:
KLND 89.5 FM, Little Eagle, SD
Newspapers:
Teton Times, McLaughlin, SD
Corson/Sioux Co. News-Messenger, McLaughlin, SD
Sitting Bull, a Hunkpapa, was an influence and respected man. Not only did he serve as a spiritual leader, he also was the last known leader of the "Cante Tinza," an elite warrior society. Sitting Bull helped to defeat Custer at the Battle of Little Big Horn. And he traveled with Buffalo Bill Cody's "Wild West Show" for a time. Sitting Bull was killed by Indian police on Dec. 15, 1890.
Patricia Locke (Ta Wacin Waste Win), a Hunkpapa Lakota and Chippewa, lives on the Standing Rock Reservation. A MacArthur Fellow, 1191-1196, she has assisted 17 tribes in establishing community colleges on their reservations. Locke has taught at major American universities including the University of California at Los Angeles. She is the author of 29 articles and publications.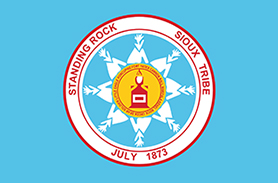 Tribal Website
Chairman: Mike Faith
PO Box D
Ft. Yates, ND 58538-0522
Phone: (701) 854-8500
Fax: (701) 854-8595